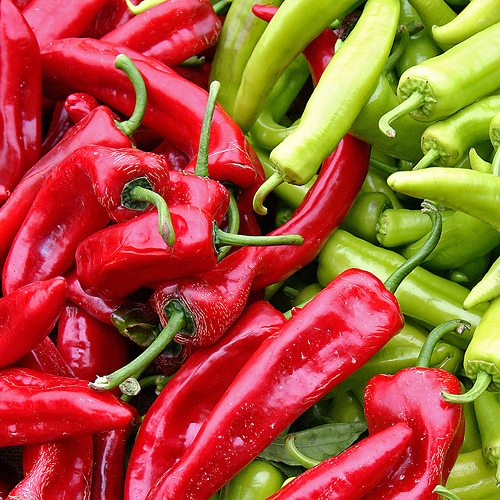 I recently started reading Annoying: The Science of What Bugs Us by Joe Palca & FLora Lichtman. I'm pretty disappointed by it. It's a particularly shallow specimen of pop-psych nonfiction. And I don't mean to badmouth pop science. While I admit that having a Psychology degree has made me a bit of a snoot, there are some good pop-science books out there, and I have been known to enjoy a few them (e.g. How We Decide by Jonah Lehrer. Check out his blog, Frontal Cortex). This book just didn't get into the nitty gritty science of what bugs us, which is a fair complaint, because they put it in the title.
I did, however, find one of the chapters fairly interesting. It was about why people enjoy eating chili peppers, and spicy foods in general. Spicy foods can be painful, they set your mouth on fire. Why do people like that?
Eating chili peppers dates back at least to when Christopher Columbus landed in the New World. He noted that all of the native peoples ate them. The authors explore several practical arguments why people would have started eating chilis. Chili peppers have antimicrobial properties, and help fight Helicobacter pylori, which causes gastric ulcers. However, this seems unlikely because H. pylori wasn't discovered until 2005. It may be used to disguise food that has started to go bad, which would have been more useful in pre-refrigeration times, but not everyone buys that either. Chilis are also a good source of vitamin A and C, but there are easier ways to get those nutrients without burning your mouth off.
A guy named Rozin, who has been studying why people like to eat chili peppers since the 1970s (crazy, right?), thinks the most compelling explanation is hedonic reversal. In the book, the authors explain hedonic reversal by giving the example of "runner's high," where your body produces opioid-like substances in response to extreme physical stress and pain. Hedonic reversal is also related to benign masochism. We like to experience things that are innately negative. We like to watch sad movies even though they make us cry. We like to ride roller coasters even though they make us scream/feel like we're falling to our death (at least that's the case for me).
Why hedonic reversal occurs/why we enjoy benign masochism is less clear. Rozin believes it's because we know that we're experiencing those "negative" feelings without anything bad actually happening. Movies are fictitious stories. We're not actually in danger when we ride a roller coaster. We are thrill-seekers.
I don't know if I buy all this. And I don't know if we'll ever really understand why people like chili peppers. Heck, Rozin's devoted his career to studying this for the past 40 years, and he doesn't even really know. I just thought it was interesting to think about, especially since I LOVE spicy food.
Speaking of which, I think I'll have Indian food for dinner.
- Amanda
[For further reading: this New York Times article]